SOLID BOWL DECANTER CENTRIFUGES
Solid Bowl Decanter Centrifuge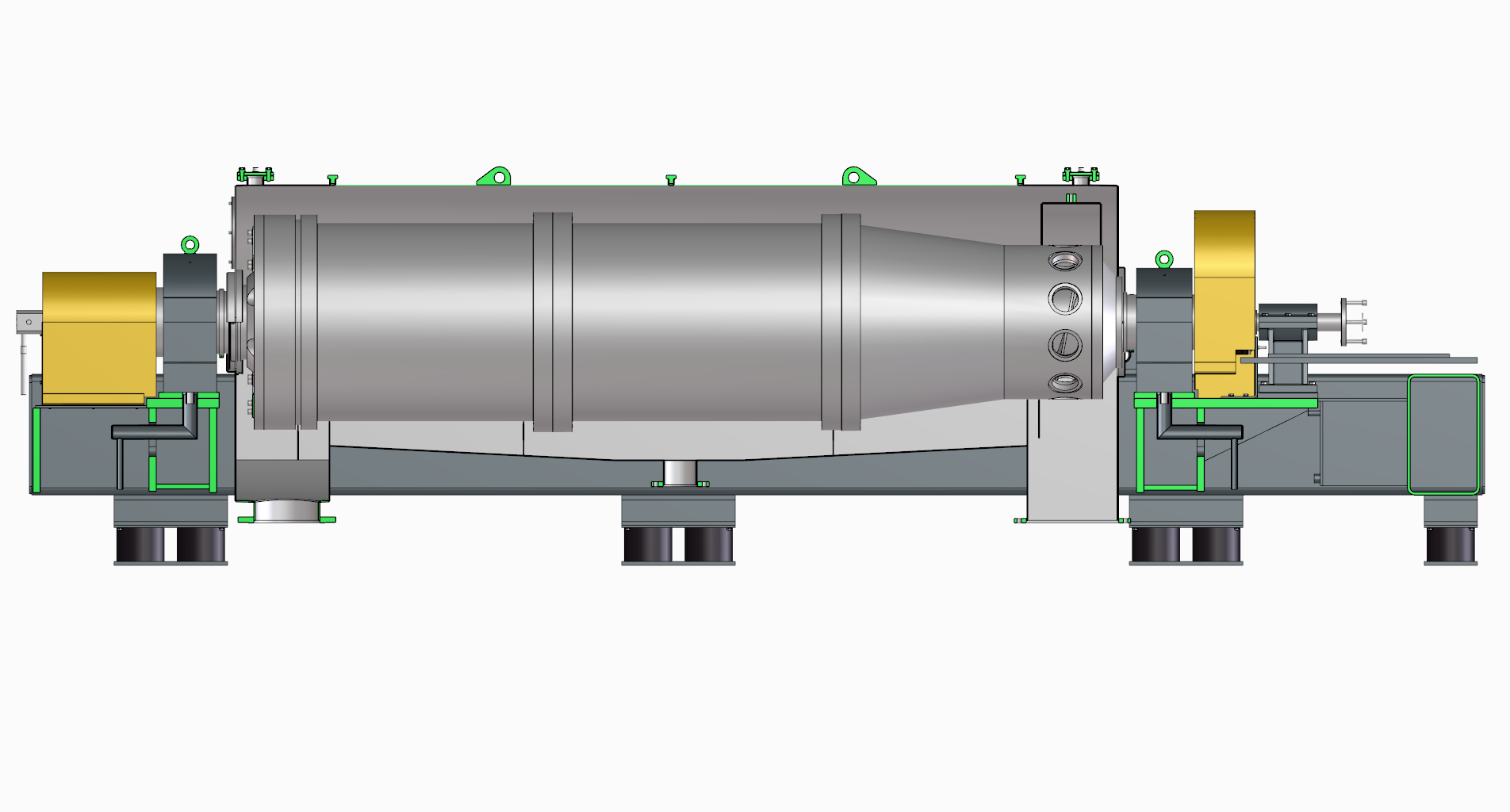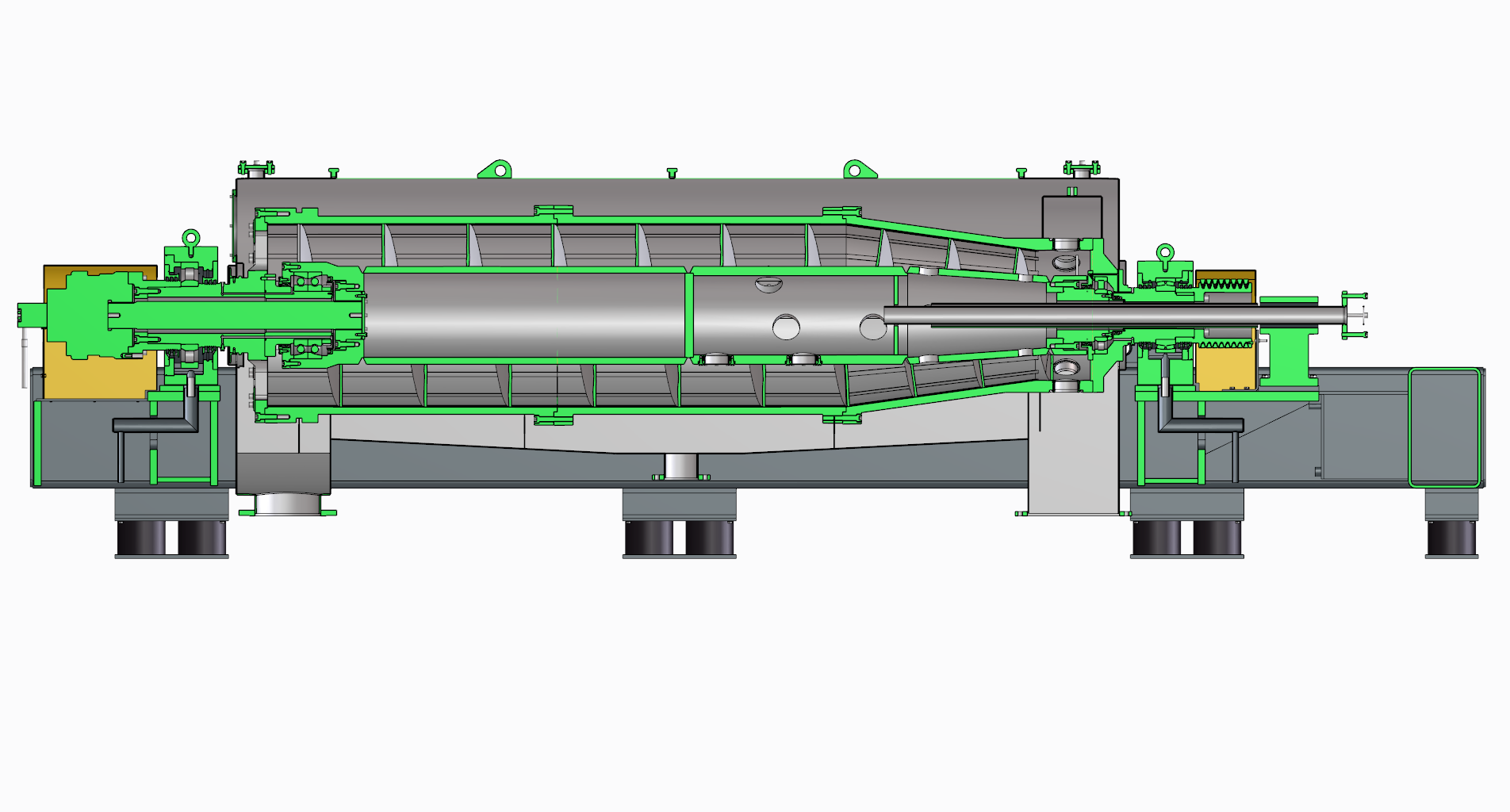 The decanter centrifuge is a centrifuge that layers solid-liquid, liquid-liquid with different densities by high-speed rotation, and then collects and discharges separately. They are used in most areas of mechanical liquid-solid separation.
Can be applied to:
Clarification of liquids

Dewatering of sludges and suspensions

Thickening of sludges

Separation of three-phase mixtures,
i.e. two immiscible liquid phases and a solid phase
Classification of solids in a suspension according to particle size (wet classification)

Sorting of solids by density
To obtain optimum results, solid bowl decanter centrifuges must be custom designed to suit specific separation processes.
In addition to ordinary two-phase decanter centrifuges, derived decanter centrifuges include:
Two-phase decanter filtration centrifuge, double cone decanter centrifuge, stepped decanter centrifuge.
Compared with other separation equipment, the decanter centrifuge and its derivative centrifuge have:
Structural advantages:
Compact design

The sealed structure can prevent the emission of odor and product pollution.

Easy to operate, continuous and automated control system.

Limited wearing parts, no filter or filter aid required.
Technical features
• Up to 10,000 x g centrifugal force possible to facilitate the separation of very fine, slowly settling solids
• Uniquely designed feed distributor and bowl seal to prevent foaming in the product inlet zone
• Strict air-tight seal, suitable for all kinds of occasions with explosion-proof and gas escape
• Clean-in-place provisions available to meet pharmaceutical industry standards
Choose the optimal drive system according to the needs of different materials

In order to deal with the erosion and corrosion of various materials, a variety of anti-wear protection can be provided

Strict monitoring and automatic operation during centrifuge operation
Our services also include:
• Experienced advice on separation processes
• Pilot tests on-site or at the Laboratory and Test Center
• Selection and sizing of appropriate equipment
• Customer-specific automation/control systems and process integration
• Design and construction of complete process systems
Our service engineers and technicians are qualified for a variety of installation, commissioning, repair and overhaul services.
Typical Applications
Vegetable / Food /
Animal Raw Materials
Algae

Animal fat

Blood

Brewer's yeast

Biodiesel

Bioethanol

Biogas

Casein

Cellulose derivatives

Coffee

Fermentation products

Fish meal

Fish oil

Fish pump water

Fleshings

Fruit juice

Gelatin

Kieselguhr

Lactose

Lignin

Meat

Molasses

Pectin

Potato

Protein

Sorbose

Soy protein

Spent grains

Starch

Stillage

Surimi

Vegetable extracts

Vegetable juice

Vegetable oils

Vitamins

Wine/must
Chemical /Pharmaceutical Products
Aluminium hydroxide

Barium sulphate

Basic dyes

Calcium fluoride

Calcium sulphate

Color pigments

Cryolite

Dimethylterephthalate (DMT)

Epoxy resin

Fluorescents

Iron oxide

Latex

Lead oxide

Phosphate compounds

Phosphoric acid

Plastic derivates/additives

Polyethylene (HDPE)

Polypropylene

Polystyrene

PVC

Salts

Silicate

Sodium chloride

Titanium dioxide

Tricalcium phosphate

Zinc carbonate

Zinc oxide

Zinc sulfate
Minerals
Bauxite

Bentonite

Calcium carbonate

Carbide sludge

Clay

Copper extraction

Graphite

Gypsum

Iron hydroxide

Kaolin

Magnesium hydroxide

Mica

Silica

Silicium

Silicon carbide
Environmental Protection/ Recycling
Drilling mud

Industrial wastewater

Manure

Municipal wastewater

Organic waste

Paint sludge

Plastic sorting

Sand and gravel wash water

Steelwork sludge
Mineral Oils
Tar cleaning

Oil sludge

Slop oil treatment