PUSHER CENTRIFUGES
Pusher centrifuge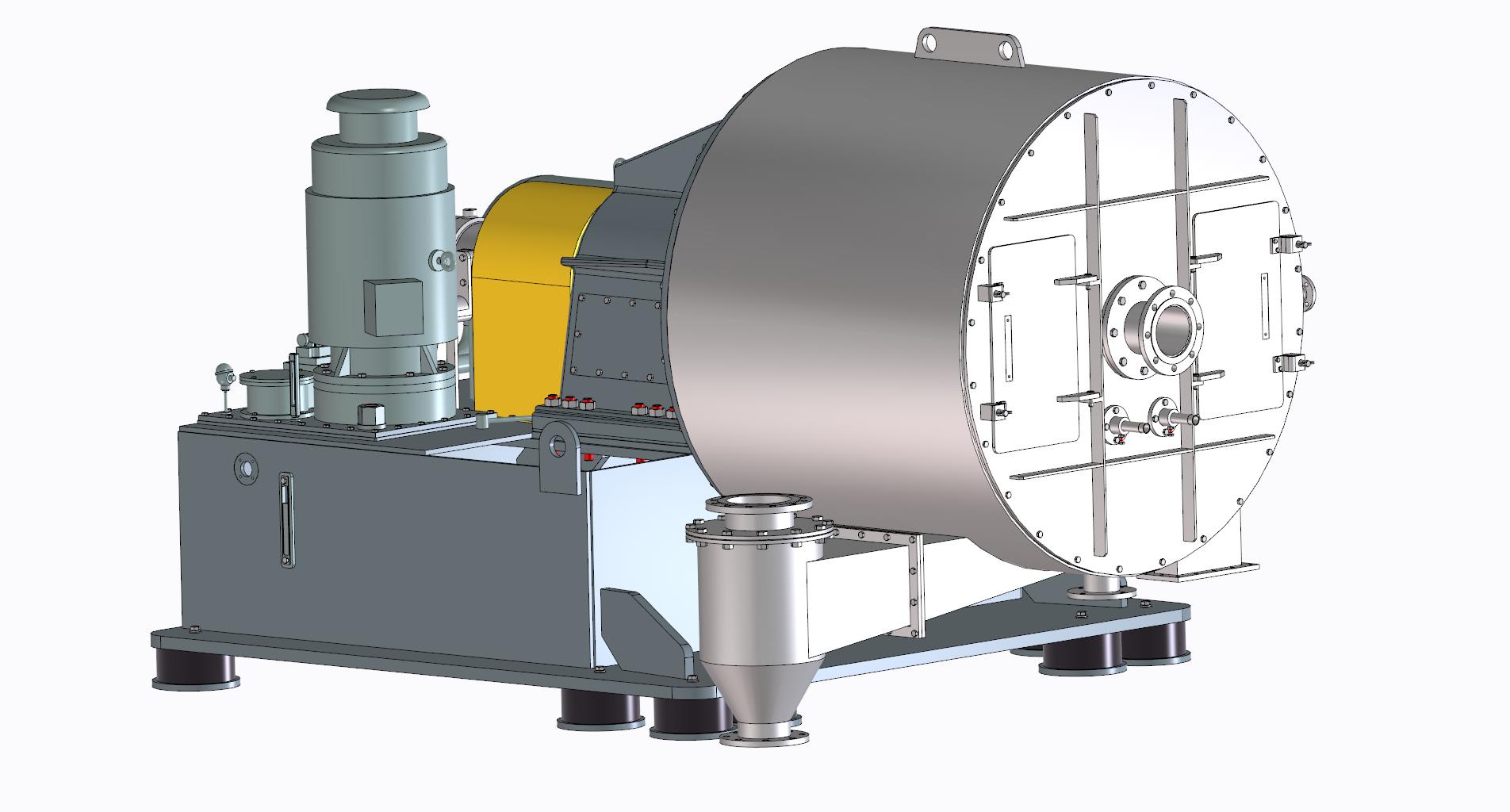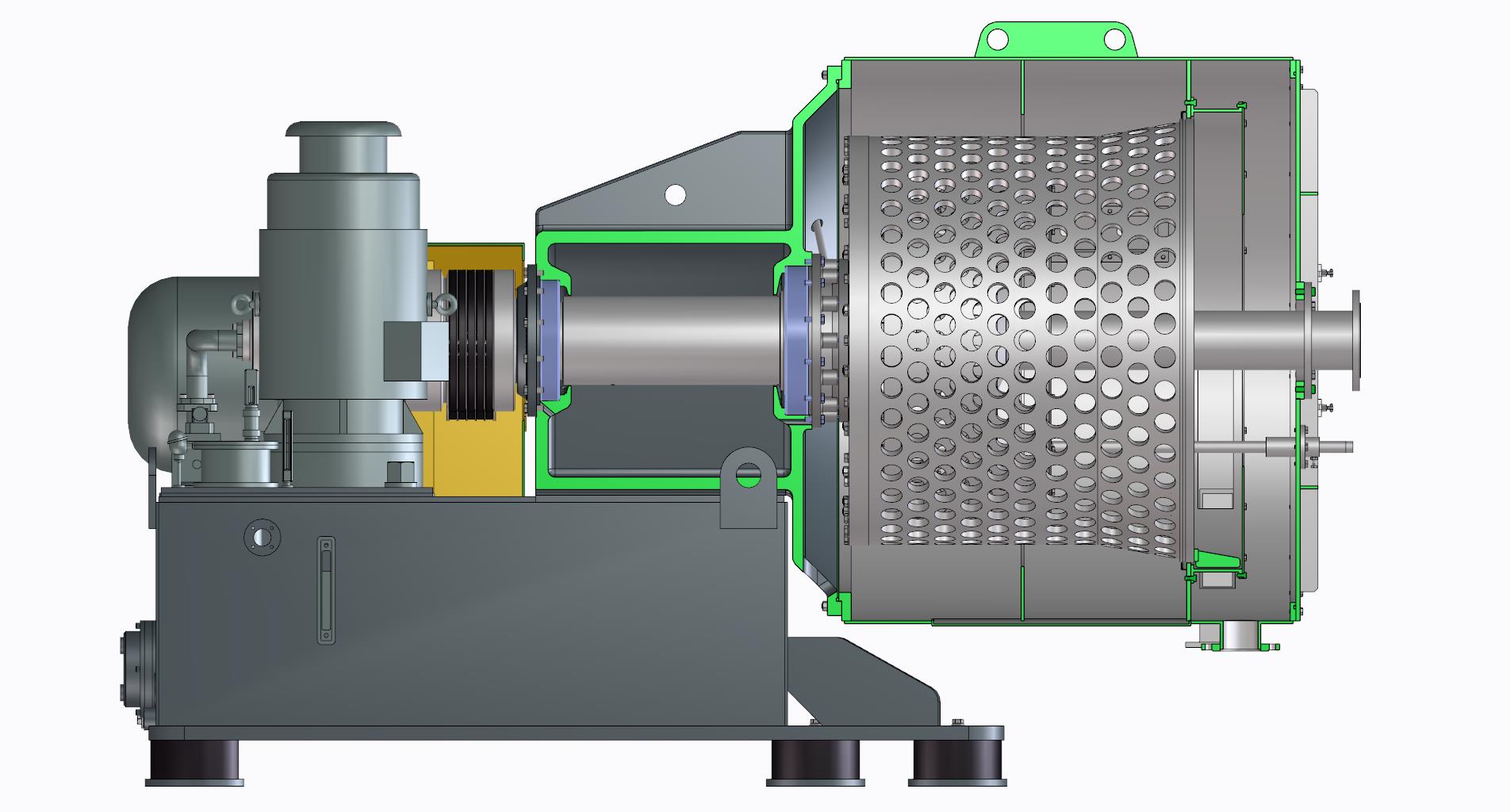 Pusher centrifuge fulfils its separation task reliably and efficiently in numerous applications for the chemical,pharmaceutical and food industries. Its strengths are most evident for special process requirements: long retention times, low solids loss in the filtrate, low crystal breakage and abrasion, intensive solids wash and minimum wear. These features make it an outstanding machine for most crystalline products,e. g. potassium sulphate or potassium chloride, sodium chloride, ammonium chloride and other sulphates,it can also be used as a product solution that requires drying.
While a trend to standardization is generally observed, we continue to cooperate with customers for special applications. In this manner, optimum efficiency can be achieved and individual requirements met.
The pusher centrifuge must be designed for the product, process and operating parameters to meet the customer's performance and efficiency requirements. Our centrifuge company's 'rich experience and targeted trials will solve all your worries.
Function and design variables
The pusher centrifuge belongs to the continuously working filtration centrifuge. The solids are retained on the wedge wire basket and transported by a movement of the inner basket axially in the direction of the solids discharge. This results in a longer retention time of the material, allowing lower discharge moistures and washing function when needed.
The thick enough filter cake ensures a good yield of even very fine particles. According to the test and our experience, the production capacity of materials with an average particle size larger than 80μm will be greater.Because of the features of this centrifuge,the materials on the screen can have long retention time and enough thickness – allow additional dewatering of solids coming from other types of filters after initial drying, e. g. filter press or belt filters.
We offer a wide range of pusher centrifuges for a variety of products ,so as to serve for a variety of new applications or processes. Currently we manufacture with basket diameters from 250 mm to 1,260 mm,and design with one, two or three stage rotating parts depending on different products.
The specific selection is determined based on the following factors:
Type of product

Capacity

Particle size

Solids concentration

Washing or not
We also have more professional designs that not only further enhance the removal of residual moisture from the material, but also improve the efficiency of the entire equipment thrust.
In addition, through the scientific design of the material compartment partition, the mother liquor with high concentration and the washing water with low concentration can be separately collected and discharged to improve the recovery rate of materials.
This centrifuge has a modular design, and the various parts are easy to overhaul and disassemble; by combining with various sensors, the equipment can be controlled fully automatically.
Pusher centrifuge specifications
Type  TL

300

400

500

600

700

900

1000

1200

 motor appox.KW

7.5

22

11

22

22

30

22

37

37

55

37

75

45

90

55

110

length  mm

1150

1150

1980

2560

2650

2750

3600

3800

Width   mm

850

850

1120

2000

2100

2100

2300

2300

Height  mm

950

1050

1100

1770

1850

2000

2200

2400

Weight   kg

1000

1500

3000

5500

6000

9500

1200

15000
Pusher centrifuge to be successfully used in a wide product range, examples are:
Potassium chloride

Potassium nitrate

Potassium sulphate

 

Flotation concentrate and residue

from the potassium industry

Zinc sulphate

 

Copper sulphate

Sodium chloride

Various mixed salts

 

Calcium nitrate

Sodium carbonate

Chloride hydrate

 

Sorbic acid

Sodium sulphate anhydride

Ammonium sulphate

 

ABS polymerisate

Adipic acid

Ammonium chloride

 

Dicalcium phosphate

Calcium propionate

Ammonium hydrogen carbonate

Ammonium molybdate

 

Sodium acetate

 

Sodium chlorate

 

Sodium nitrate

 

Nickel sulphate

 

Sodium formiate

 

Phosphate

 

Glauber salt

 

Sodium perborate

 

Methacrylamide

 

Ferrous sulphate

 

Pentaeritritol